The 2CV – a must-have car for a unique and memorable wedding
Le mariage est un événement unique dans la vie d'un couple. Pour rendre cette journée encore plus inoubliable et marquer les esprits, rien de tel que de choisir une voiture originale et pleine de charme : la mythique Citroën 2CV pour votre mariage. Découvrez pourquoi cette voiture emblématique est idéale pour un mariage chic et tendance !
The vintage charm of the 2CV for an unforgettable wedding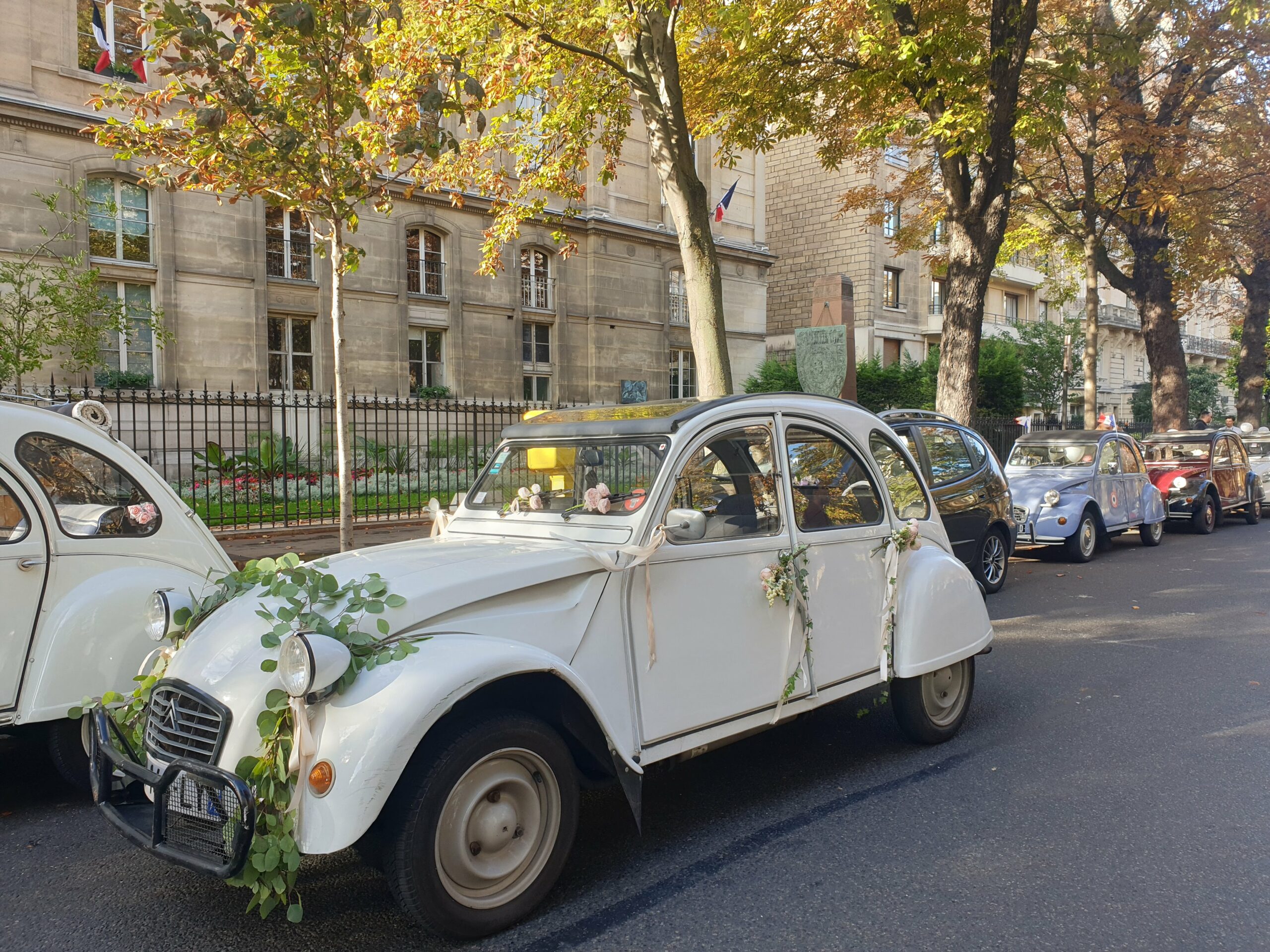 The Citroën 2CV, affectionately known as the "Deuche" or "Deudeuche", is a beloved French car produced between 1948 and 1990. With its recognisable design, its simple but robust engine, and its spring suspension, it has won the hearts of millions of drivers around the world. Today, the 2CV has become a true symbol of love and freedom, making it an ideal car to celebrate a wedding.
A retro and authentic look: With its rounded shapes, its convertible canvas roof, and its round headlights, the 2CV seduces with its distinctive and timeless appearance. It brings a vintage and romantic touch to your wedding, perfect for unforgettable photos.
A friendly and accessible car: Synonymous with simplicity and authenticity, the 2CV is a car that appeals to everyone and does not require a large budget to hire. It brings people together around a shared passion and creates lasting memories.
A real homage to French automotive history: Choosing the 2CV for your wedding is a tribute to a car that is emblematic of the French cultural heritage. It also means sharing a touch of nostalgia and emotion with your guests.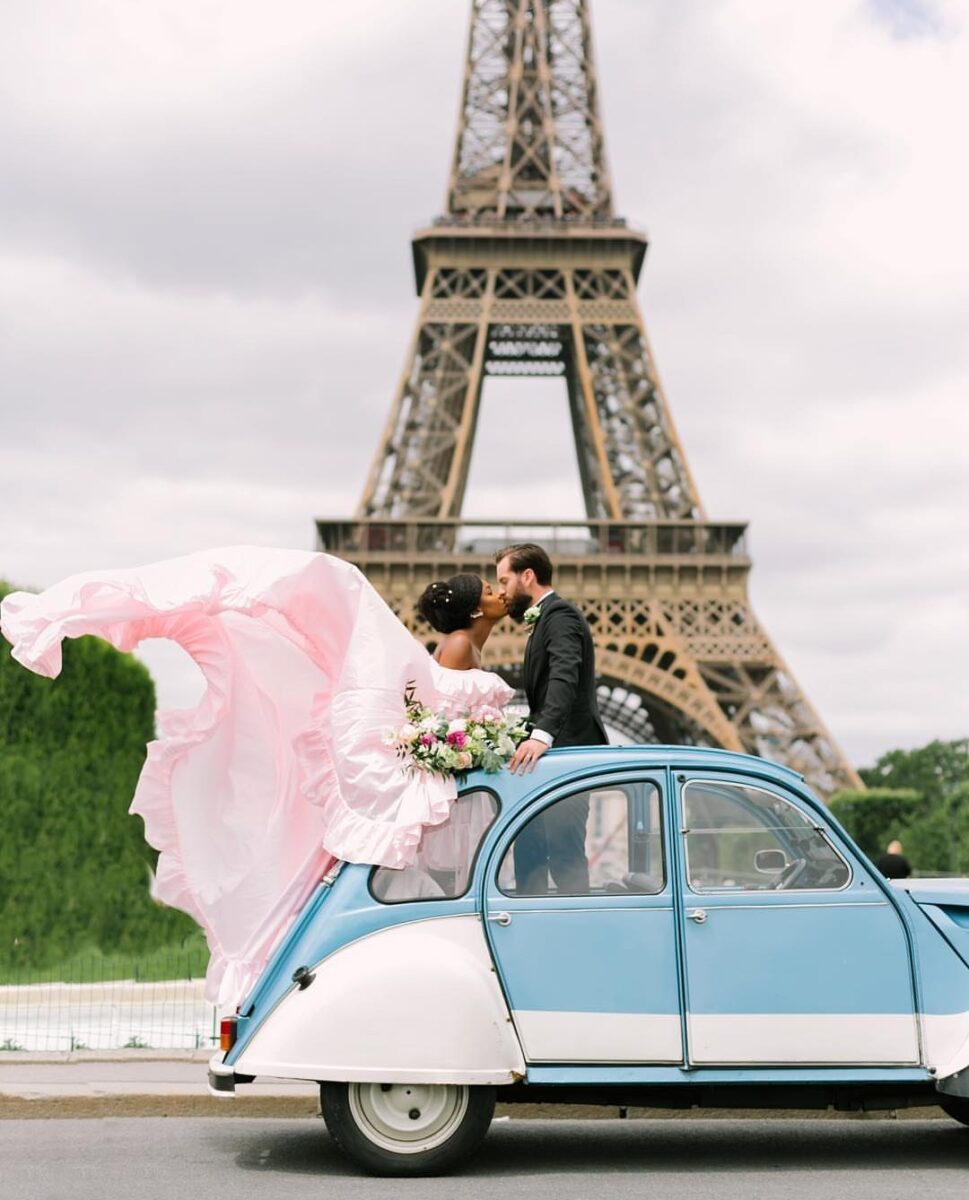 Personalizing the 2CV for a unique and original wedding
L'un des atouts majeurs de la location 2cv mariage réside dans la possibilité de personnaliser la voiture selon vos envies et votre thème de mariage. Que vous optiez pour une décoration florale classique ou des accessoires plus originaux, la 2CV se prête facilement à toutes les fantaisies.
A variety of colours: The 2CV has been produced in many colours over the years, from the traditional grey to bright shades such as red, blue, green, and yellow. You can choose the colour of your 2CV to match the style and atmosphere of your wedding. At Parisi Tour we even have a pink 2CV!
Customised decoration: Flowers, ribbons, bows, garlands ... let your imagination run wild to dress up the 2CV for your wedding. Its simple design and clean lines allow the decorations to stand out without overwhelming your aesthetic preferences.
A cosy and warm interior: With its comfortable fabric seats and minimalist dashboard, the 2CV offers an intimate and welcoming space for the bride and groom. You can add cushions, throws, or decorative elements to personalise the interior to your taste.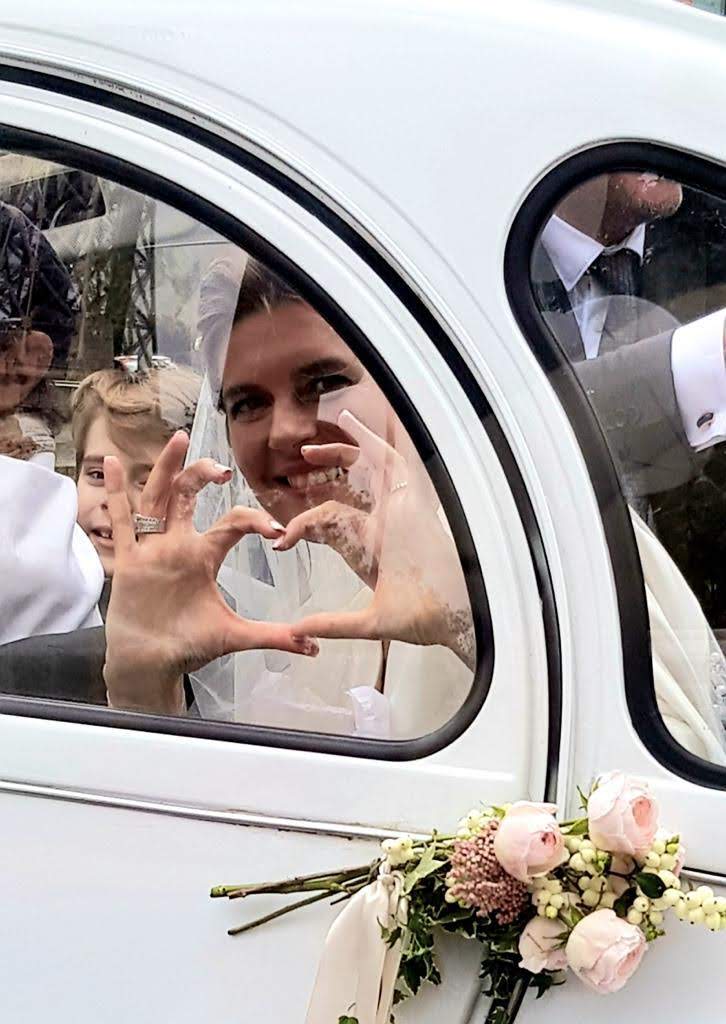 How to find and book the 2CV of your dreams for the most beautiful day of your life?
There is only one solution: Contact the Parisi Tour team! (link to contact page). The team at Parisi Tour will be able to advise you and help you choose your 2CV.
Parisi Tour, along with our passionate and experienced chauffeurs, will take real pleasure in working with you to imagine the various scenarios: Choice of colour, decoration, itinerary, the number of cars, etc. ... to help you design this day of love and celebration.
As specialists in 2CV tours, Parisi Tour mainly offers tours of Paris and its region, but also throughout France: Normandy, the Loire chateaus, etc. Whether in Paris or elsewhere, all our services are unique: We are creators of tailor-made experiences! For what should be the most beautiful day of your life, we can offer you many ideas and make these moments in a 2CV the highlight of your wedding: Champagne, gift, chauffeur, photo shoot ... Choosing the iconic 2CV, a vintage vehicle, to celebrate the most beautiful day of your life is an original and charming idea that will leave a lasting impression and give you unforgettable memories of your wedding. So, are you ready to drive to happiness at the wheel of a mythical Deudeuche?