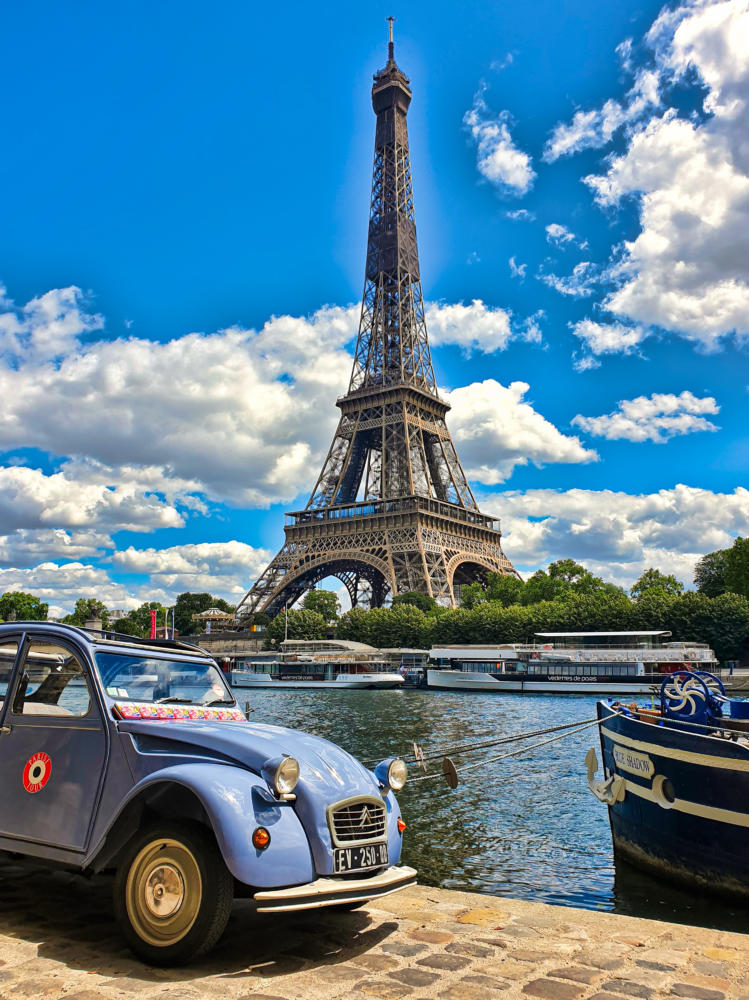 It's pretty simple: we take care of everything!
To visit Paris in a 2CV, pick-up and drop-off can take place at your hotel's front door or any other location in the centre of Paris. Bookable for 1 hour, 2 hours, 3 hours, half a day or a full day, our drivers and their 2CVs will take you to the four corners of the capital to discover the city as you've never seen it before.
To do so, several tours are available to you, feasible both during the day and at night
Go and conquer the capital's most beautiful monuments thanks to our Paris tour! Paris! Paris ! Paris !
From the Eiffel Tower to the Arc de Triomphe, through the Champs Élysées, the Louvre, the Invalides, the Petit and Grand Palais, Notre-Dame, the Opéra Garnier, the Trocadéro, the Île Saint-Louis and the Sacré-Coeur Basilica... This must-see tour will take you to the heart of what makes the city so rich, historic, and beautiful.
Want to surprise your partner by adding a touch of romance to this escapade? Opt for our Paris Chic tour to visit the most mythical places and monuments of the capital in a 2CV while enjoying a bottle of champagne accompanied by macaroons or Berthillon ice cream. Paris Chic pour visiter les lieux et monuments les plus mythiques de la capitale en 2 cv, tout en savourant une bouteille de champagne accompagnée de ses macarons ou de glaces Berthillon.
A unique gift idea, to celebrate a special event or a just you them you care.
For the more experienced, those who wish to discover Paris in a 2CV in a new light, our Paris Secret tour Is for you! If you thought you knew the city, you're in for a surprise! Our guides will take you off the beaten track to discover the capital's secrets, where few have ventured. Paris Secret est fait pour vous ! Si vous pensiez connaître la ville, préparez-vous à être surpris ! Nos guides vous mèneront hors des sentiers battus, pour découvrir les secrets qui rythment la capitale, là où peu se sont aventurés.
That's all we have to say, and we look forward to seeing you for an experience like no other!
Montmartre, its hillock, and its small, cobbled streets... What would Paris be without the unique atmosphere of the Pigalle district, without the charm and romanticism of the Abbesses district, without the lights of the Moulin Rouge or the mystical Sacré Cœur? With the Montmartre La Bohème tour you'll be able to explore this authentic Parisian place, where art, history and culture all come together. Follow in the footsteps of Van Gogh, Picasso, and Renoir, and discover the rich culture hidden throughout the alleys and their countless stairways.
All generations are brought together in this little part of Paris where life is good, an unforgettable visit, where time seems to have stopped.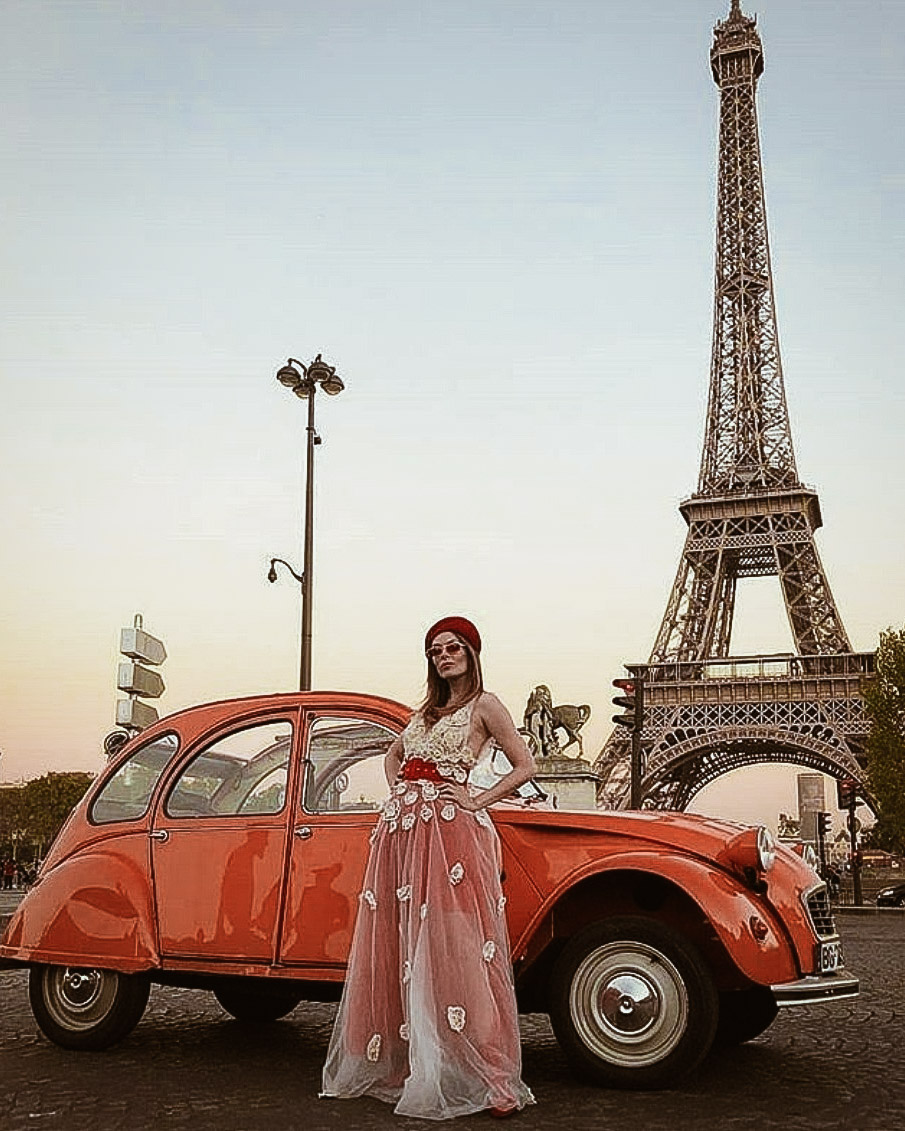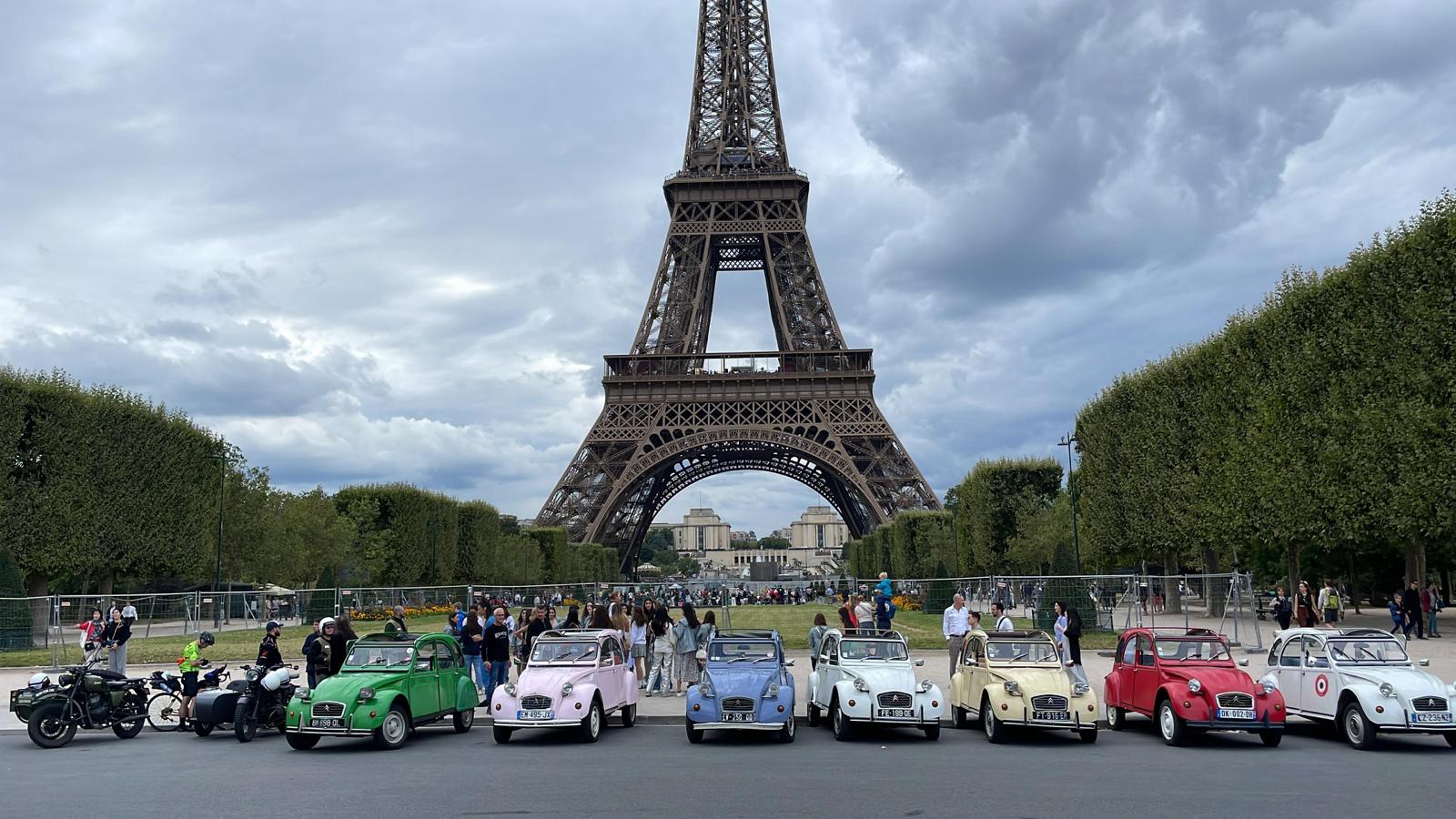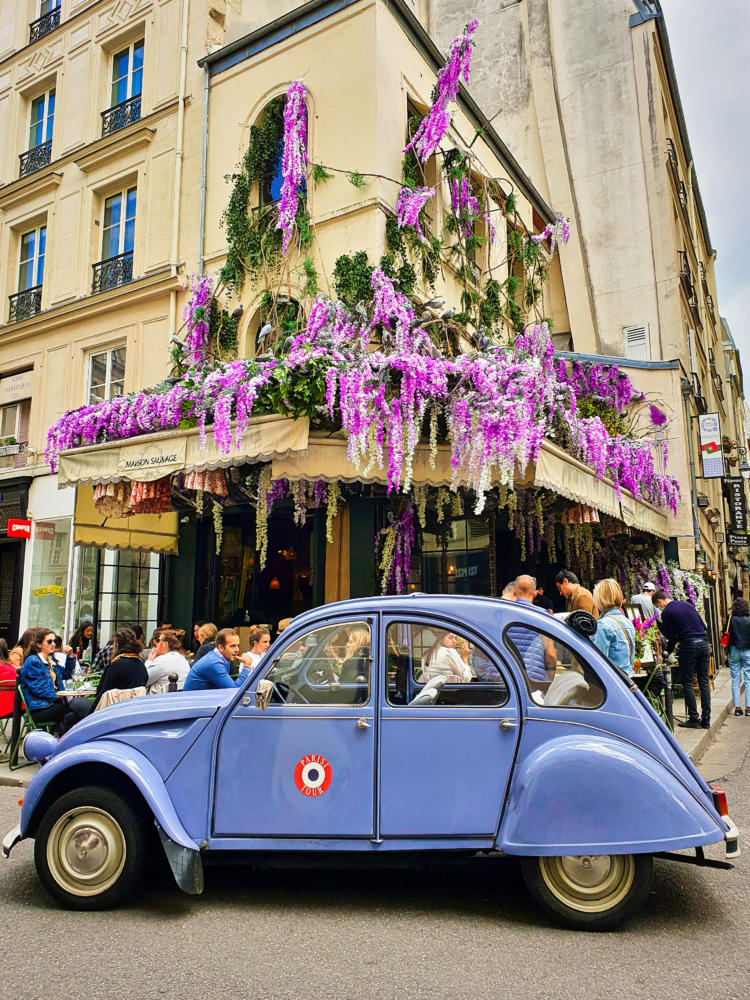 Interested in multiple options? Unsure about which Paris tour to choose? Parisi Tour also offers you the option to create your custom 2CV tour of Paris, with a personalized itinerary based on your preferences. Contact us to share your project, and a guide will create the perfect tour for you!
Our professional Parisian guides know Paris and its twenty districts like the back of their hand. They will accompany you throughout your tour and entertain you with great stories and advice, but above the best places to visit. Don't forget to ask your tour guide to take pictures of you to remember the moment!
If you wish, we can also provide a professional photographer for a very special photo shoot, for you and you are only. Go here for more information.
Our 2CV's can carry up to 4 people. You'll have a driver during your entire journey, which means you can discover the capital on your own, with two or three people per car.
Once on board one of our iconic cars, all you have to do is fasten your seatbelt and let yourself be guided through the streets of the city.
The only thing to remember is to make the most of this very special moment, keep your eyes open, and let the magic happen!
Discover Paris in a Citroën DS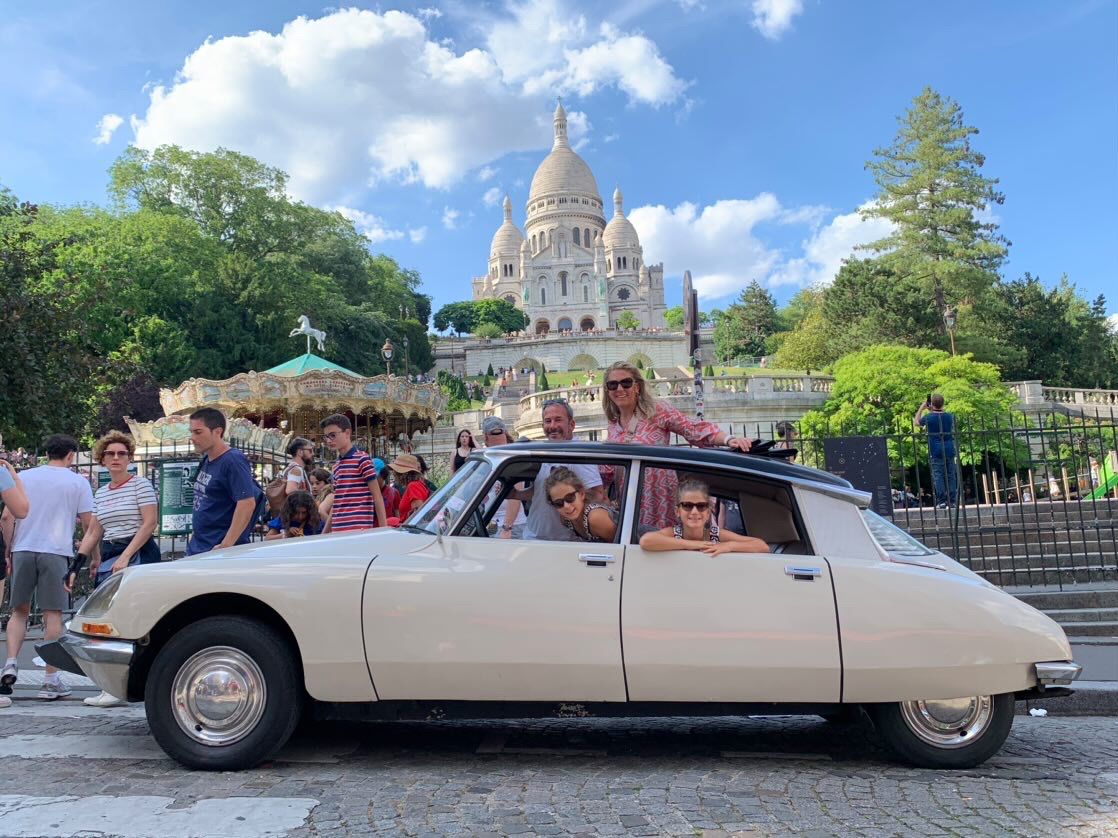 An Elegant and Memorable Experience
Join us for an exceptional experience through the streets of Paris, but this time aboard a timeless icon: the Citroën DS. Just like our tours in the 2CV, our Citroën DS circuits allow you to discover Paris in a truly unique and captivating way.
The Magic of Paris in a Citroën DS
Imagine yourself driving through the picturesque alleys of Paris, enchanted by the timeless charm of a convertible Citroën DS. Our Citroën DS tours are designed to offer you an equally unforgettable experience as our 2CV tours.
Flexible Duration Options
Our Citroën DS tours are adaptable to your preferences and schedule. Whether you have one hour, three hours, or an entire day to dedicate to exploring Paris, our tours are designed to meet your needs.
Breathtaking Views
Admire the iconic sights of Paris from a new perspective aboard our convertible Citroën DS. From the Eiffel Tower to Notre-Dame, and along the Champs-Élysées, every street corner is an opportunity to discover the beauty of the City of Light.
Customization of the Experience
Just like our tours in 2CVs, we emphasize the customization of your experience. Choose from our duration and destination options to create a circuit that perfectly matches your desires.
Local Expertise and Comfort
Our experienced chauffeurs/guides know Paris like the back of their hand and will share fascinating anecdotes about the city's history and its monuments. Enjoy the comfort and unmatched style of our Citroën DS as you explore Paris in an elegant and relaxed manner.
Luxe, Elegance, and Unforgettable Memories
Our Citroën DS tours offer a luxurious and elegant experience while providing you with the opportunity to create unforgettable memories. Whether it's a quick one-hour escapade or a full-day exploration, our convertible Citroën DS will add a touch of sophistication to your discovery of Paris.
Ready to Embark on an Elegant Parisian Adventure?
Discover Paris in style aboard our convertible Citroën DS. Choose the duration that suits you best and be captivated by the timeless elegance of this iconic car. An experience of Paris that combines luxury, charm, and unforgettable memories awaits you.