THE ESSENTIALS LOVED BY OUR CUSTOMERS
PARISI TOUR
Our specialty is tailor-made experiences.
Parisi Tour - A creative travel agency specializing in tourism and corporate events.
Based in Paris, we are experts in visits to the capital, but our goal is not to remain confined to the same city. This is also why we are already well established in visits to Normandy and the Loire Valley.
Since its creation in 2018, Parisi Tour has continued to share the most original and authentic experiences with its public.
Currently solicited by many companies and agencies in France and internationally, and proud to have received several hundred positive comments, we continue to guarantee high-quality services.
Much more than just a simple visit, it's a unique, original, and surprising experience that awaits you with an authentic Parisian that's proud to show you their city.
A visit from Paris on foot, in a Citroën 2CV and DS or in a private boat, a must for a unique and unforgettable moment.
Organizing a program in a city, you don't know as a tourist can be challenging. That's why the Parisi Tour team offers local expertise to ensure you get the most out of your stay.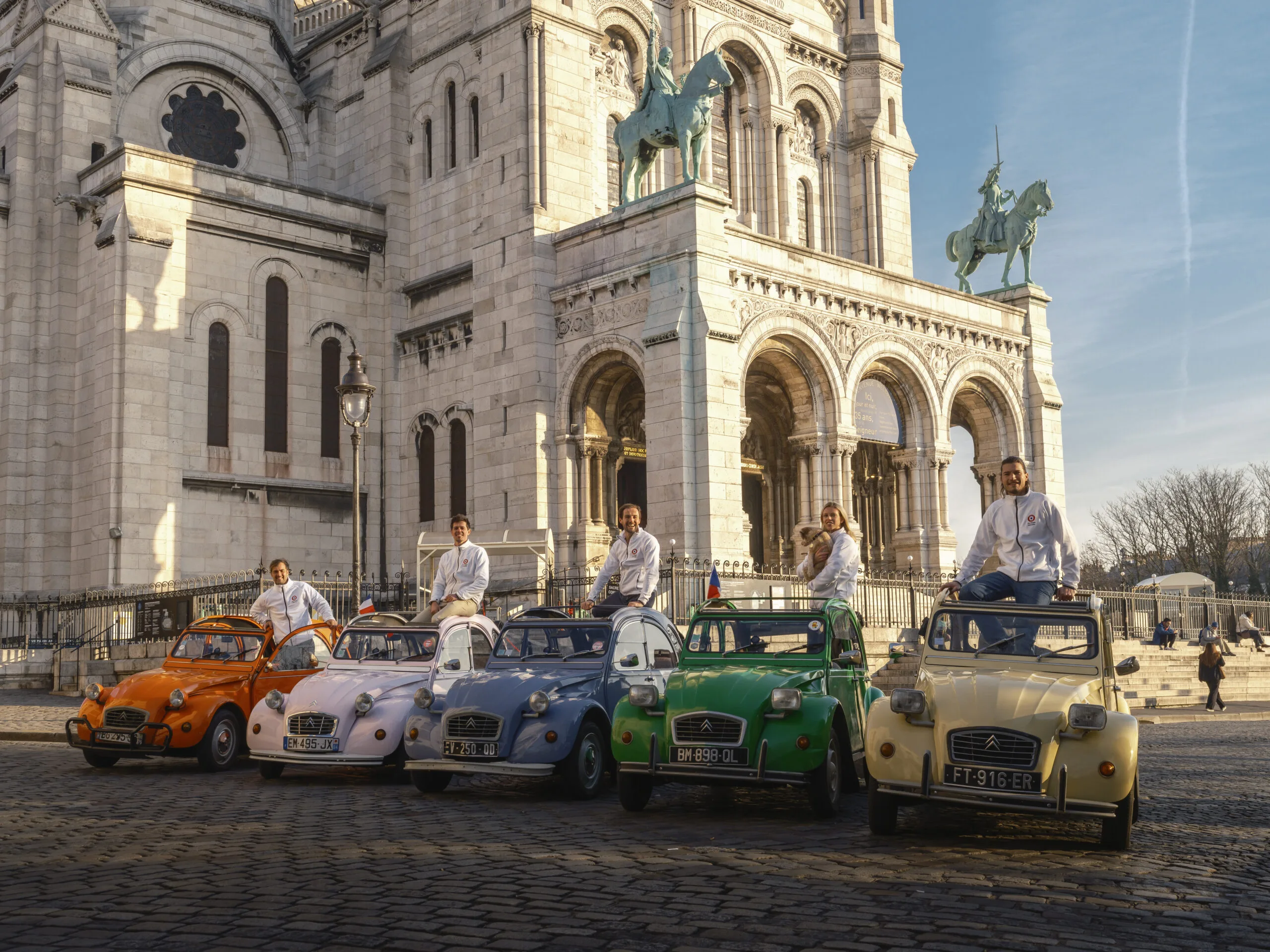 CUSTOMERS RECOMMEND US
Super leuk! Echt het geld waard. Je mag zelf je route bepalen en overal foto's maken. Simon deed het erg leuk. Mega leuk! Zelf je route bepalen, fijn dat hij rijdt. Echt leuk, makkelijk met een autootje ipv alles lopen. Je mag zelf je locatie kiezen waar je afgezet wil worden.
Nice tour We could see most important places we wishes to see. Private and we could stop wherever we wished to. Highly recomended to people who want to have a relax tour and does not want to be in the middle of the crowd.
A wonderful experience in the City of ❤️! Victor was a very warm, friendly, knowledgeable, and experienced tour guide.He also proved to be a very good photographer helping us to get the best pics and experience of Paris, would definitely recommend his services and look forward to calling upon him the next time I visit this beautiful city of ❤️.
Excellent Excellent tour in the gorgeous orange 2cv with a very charismatic young Frenchman. Went to Canal Saint Martin and top of MontMartre. He was very engaging.
Tour-Ride Lots of fun, our guide was knowledgeable and accommodating. We made perfect timing to see the Eiffel Tower light up and lots of other sights along the way. It was a little chilly being that our ride was at night in April, would have brought a light blanket next time.
Terrific! Romain was very friendly, fun, and knowledgeable of the city. Even sang beautiful French songs during the ride in the Citroen vehicle. Thank you, Romain, for a terrific ride around Paris!
GENIAL !!! Un grand merci à Antoine qui nous a vraiment fait passer un super moment à bord de la 2CV blanche decapotable. Un passionné et passionnant cet Antoine ! Nous en garderons mon mari, mon fils et moi, un très très bon souvenir ! A faire sans hésiter. Tout était parfait, sa ponctualité, sa conduite et sa bienveillance ! Un moment drôle, hors du temps avec l histoire des lieux visités vraiment TOP !!FONCEZ !!!! Encore Merciiii
Most AMAZING way to see the most beautiful city in the world! We booked two separate tours due to our schedule for our one day in Paris - our guides, Leopold and Alice were both INCREDIBLE. We saw more of the city than I had ever hoped to. We were able to see ALL of the big sites, get out and take photos when we wanted to, and view Paris through the eyes of locals. The routes taken between each site and the knowledge of the little areas that are off the beaten path were so delightful to experience.Would recommend this tour to anybody - both my mother and my 9 year old son were loving every second of the trip - definitely would do this tour again knowing we would see new places and learn so many new things, too!
Good Tour I had the best tour with Romain. He has very good local knowledge Paris.Best way to explore the city. I am very glad I have found him. He is very friendly. Thank you again.
Quality label
Our services meet strict hospitality standards, which make the experience easier for all travelers. Our team of experience designers thoroughly checks every journey and experience before going live.
Our vehicles are regularly cleaned, disinfected, and serviced to ensure the cleanliness and safety of our passengers.és afin de garantir la propreté et la sécurité de nos voyageurs.
At Parisi, we take great care in recruiting cultured guides with multiple facets (artists, comedians, singers, polyglots...) who know how to adapt to the slightest problem and always try to answer your requests as positively and quickly as possible.
All this so that you go away with an unforgettable memory of your stay in Paris.
The Champs de Mars is the largest green space in intramural Paris. It takes its name from a space for military maneuvers and according to legend it was here that in 52 BC that the Parisiis, a Gallic people, were defeated. by the Romans. This is where the Universal Exhibitions once took place.
The Pont Alexandre III was built for the Universal Exhibition of 1900 and symbolizes Franco-Russian friendship. The first stone was laid by the last Tsar of Russia Nicolas II. The bridge is named after his father Tsar Alexander III. The architect is called Joseph Cassien-Bernard. The Chateau-Landon stone which was used to build the Sacré Coeur and the Arc de Triomphe was notably used for the construction of the Bridge.
The Petit Palais was built for the Universal Exhibition of 1900 by the architect Charles Girault. Today it is the Museum of Fine Arts of the city of Paris. There are paintings by the greatest painters Renoir, Courbet, Rembrandt, Monet etc... Did you know? The Saigon Opera House was built the same year in a very similar style.
The first houses on rue du Faubourg-Saint-Honoré were burned down by the Communards in 1871, along with part of rue Royale.
Did you know ? Empress Eugénie, no doubt superstitious, had number 13 rue du Faubourg-Saint-Honoré removed, which was never reinstated.
Mission & Values
Parisi Tour's mission is to offer travelers the most inspiring selection of experiences and services sur mesure, at the best price, bookable in the simplest and most transparent way possible.
The time spent with family and friends makes up the memories forever engraved in our minds. In our hectic lives where time flies at 100 km/h, our dearest wish is to offer travelers a moment of intimacy and relaxation during their visit to France—a precious moment frozen from time and the frustrations of everyday life.
Let our team of designers guide you every step of the way.
VISIT PARIS IN AN ORIGINAL AND UNIQUE WAY WITH PARISITOUR. WE OFFER ORIGINAL AND TAILOR-MADE TOURS OF PARIS, TO ENJOY A UNIQUE EXPERIENCE IN PARIS.
VISIT PARIS IN A 2CV, BY BOAT OR ON FOOT, BOOK YOUR PARIS TOUR AND LET US GUIDE YOU.
Best neighborhood to hang out in?
pt-admin
2022-11-22T10:39:51+01:00
it depends on your desires. At Parisi, it's the Saint-Germain-des-Prés, the Marais and the Canal Saint Martin. We'll take you there!