Our specialty is tailor-made experiences.
Parisi Tour - A creative travel agency specializing in tourism and corporate events.
Based in Paris, we're the obvious choice when it comes to expert tours in the capital, but our goal is to go beyond the boundaries of the same city. That's why we're already well-established in Normandy and the Loire Valley.
Since its creation in 2018, Parisi Tour has continued to share the most original and authentic experiences with its public.
Currently solicited by many companies and agencies in France and internationally, and proud to have received several hundred positive comments, we continue to guarantee high-quality services.
Much more than just a simple visit, it's a unique, original, and surprising experience that awaits you with an authentic Parisian that's proud to show you their city.
A visit of Paris by foot, in a Citroën 2CV and DS, or on a private boat is a must for a unique and unforgettable moment.
Organizing a program in a city, you don't know as a tourist can be challenging. That's why the Parisi Tour team offers local expertise to ensure you get the most out of your stay.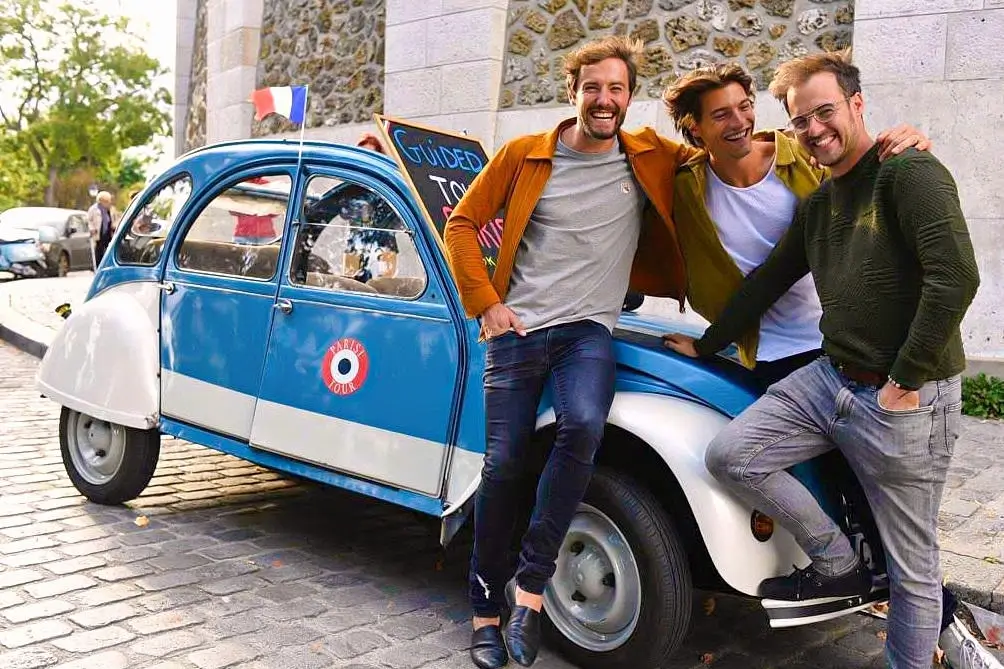 Quality label
Our services meet strict hospitality standards, which make the experience easier for all travelers. Our team of experience designers thoroughly checks every journey and experience before going live.
Our vehicles are regularly cleaned, disinfected, and serviced to ensure the cleanliness and safety of our passengers.és afin de garantir la propreté et la sécurité de nos voyageurs.
At Parisi, we take great care in recruiting cultured guides with multiple facets (artists, comedians, singers, polyglots...) who know how to adapt to the slightest problem and always try to answer your requests as positively and quickly as possible.
All this so that you go away with an unforgettable memory of your stay in Paris.
Mission & Values
Parisi Tour's mission is to provide travelers with the most inspiring selection of tailor-made experiences and services at the best price, bookable most easily and transparently. (the best way to discover or rediscover France, at the best price, bookable in the easiest and most transparent way.)
The time spent with family and friends makes up the memories forever engraved in our minds. In our hectic lives where time flies at 100 km/h, our dearest wish is to offer travelers a moment of intimacy and relaxation during their visit to France—a precious moment frozen from time and the frustrations of everyday life.
Let our team of designers guide you every step of the way.
THE ESSENTIALS LOVED BY OUR CUSTOMERS
CUSTOMERS RECOMMEND US

Amazing tour definitely recommended Amazing this was definitely one of the most amazing trip I have ever done. The tour guide was full of knowledge enthusiastic funny and keen for us to get the best out of the tour. The heat was intense -43c and he made sure we were well hydrated comfortable and safe Highly recommended and would do again if revisit Paris

Paris sightseeing We had a fantastic time riding around the city in the vintage car. Our driver was great and we especially loved his dog that joins us. I highly recommend this tour!
Highlight of out Paris stay 2 full on days in Paris and this was our highlight! Hugh was fun, accomodating and an all round nice guy. We saw so many sights and sung and laughed our way around Paris. we got picked up from our Hotel and dropped at the Eiffel Tower. Loved every second of this tour!

A great way to tour Paris! Ladislas was so thoughtful, knowledgeable, and fun! He parked right in front of attractions and allowed us time to get pictures. He even brought sunblock because it was so sunny. The little car is a ton of fun! Everyone smiled and waved us into traffic and parking spaces. It was a great experience!

Ballade en 2CV à Paris Super ! Un tour d'une heure à bord de Clémentine et avec Charles pour chauffeur et guide. Un pur moment de découverte, mais aussi de rire. Je le conseille à tous ❤️😊✅

Great tour with a great tour guide Jean was a great tour guide. Very very knowledgeable. He was also very customer service oriented.i would highly recommend this tour

Great Way to See Paris! This was a great way to explore Paris in a fun and very Parisian feeling way! The car was very cool and the guide very knowledgeable. They were also very accommodating picking us up from the hotel and dropping us off at our dinner reservation. Highly recommended.

2CV tour OMG this was fantastic! Our driver, Hugh, picked us up at our hotel and drove us all over Paris. We had seen a few things on the stock tour so he improvised a couple of other stops that we hadn't yet seen including a great tour of Montmartre where we concluded the tour. The 2CV was cool and very comfortable for our family of three. We got lots of thumbs up and waves. High was a fun, interesting and knowledgeable guide and a really nice guy. He knows Montmartre well and gave us a couple of good local restaurant recommendations.We had a great time and I would highly recommend it. Definitely a highlight of our trip. Would also do it again on a future trip.

You must do it ! The whole of our trip was brilliant OK maybe little late pick up but more than happy with the experience ,vive le 2cv !

Ein wunderbares Erlebnis Eine wunderbare Fahrt durch ganz Paris zu den schönsten Sehenswürdigkeiten mit der Möglichkeit ganz besondere Erinnerungsfotos zu machen. Die sehr sympathische und interessante Führung durch die Stadt und auch durch ihre kleinen Gassen wird durch passende französische Musik-Klassiker untermalt.Auf jeden Fall weiterzuempfehlen.Vielen Dank.
VISIT PARIS IN AN ORIGINAL AND UNIQUE WAY WITH PARISITOUR. WE OFFER ORIGINAL AND TAILOR-MADE TOURS OF PARIS, TO ENJOY A UNIQUE EXPERIENCE IN PARIS.
TOUR OF PARIS IN A 2CV, BY BOAT OR ON FOOT, BOOK YOUR TOUR OF PARIS AND LET US GUIDE YOU.
Best neighborhood to hang out in?
pt-admin
2022-11-22T10:39:51+01:00
it depends on your desires. At Parisi, it's the Saint-Germain-des-Prés, the Marais and the Canal Saint Martin. We'll get you there!