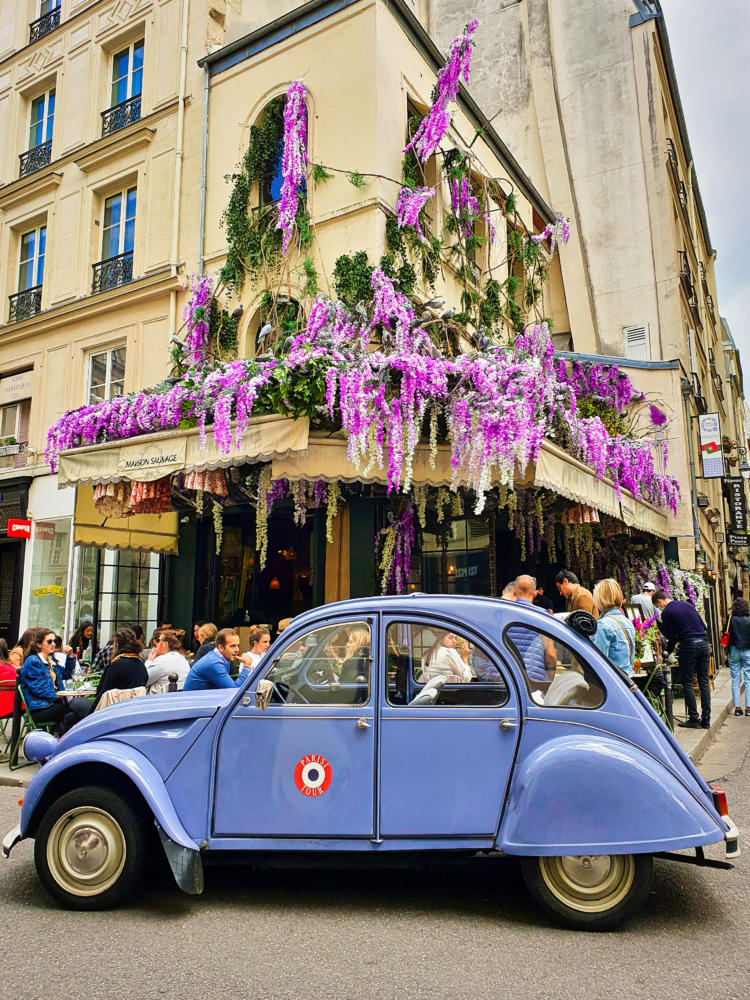 With Parisi Tour, take a road trip in the most beautiful areas of Paris, aboard the most iconic and sexy French car, the aptly named 2CV!
Accompanied by our best guides and a professional photographer, let us guide you through the most photogenic spots of the city of love: the Eiffel Tower, the Île de la Cité, Saint-Germain-des-Prés, Place des Vosges, Place Vendôme, Montmartre, the Marais ...
Aboard vintage cars decorated for the occasion, a glass of champagne and macaroons in hand, you will enjoy the most beautiful city in the world with music.
Let the Parisi Tour team guide you to create an unforgettable road trip in Paris.
Your HEN PARTY ROAD TRIP with Parisi Tour is:
• Champagne and macaroons in each car
- Cars decorated for the occasion
• A musical playlist made in Paris
• A professional photographer for the duration of the tour
Photo stops in the most beautiful places in Paris (the Eiffel Tower, Place Vendôme, Place des Vosges, Montmartre ...)
• Une ou plusieurs activités surprises pendant l'une des étapes, à imaginer en fonction de la future mariée. Voici quelques exemples :
– un concert live à Montmartre
– un cours de danse sur les quais de Seine
– une partie de pétanque sur la place Dauphine
– …
• A tour of 2 to 4 hours with our best guides
• Up to 3 people per car
We know how important a hen party is to you. That's why we want to help you make it an unforgettable moment.
Trust the Parisi Tour team to organize a crazy, original, and memorable hen party!
Contact us for more information!
Fantastic! Anton was wonderful. He made extra effort to take us to a few more places we asked him about. He carefully parked to get the best advantage for picture taking. He was so engaging and enthusiastic and made Paris come alive! Very good driver and guide!!
Tour of Paris in a 2CV Extremely helpful and friendly driver. Took in both the tourist and less well known places, even stopping to buy us crosswinds in Place du Daphne. Picked up from the hotel and dropped at our choice of location.
Unique way to see Paris ! Best tour ever! Charming driver. Exceeded my expectation! A beautiful evening in Paris. I would most definitely recommend this adventure!
Unforgettable Paris Adventure: Exploring in a Citroën 2CV Our Citroën 2CV tour of Paris, guided by a knowledgeable and charming driver, was an unforgettable adventure. The vintage car's open design allowed us to soak in the city's beauty, while our guide's insightful commentary brought each landmark to life. From Montmartre to the Eiffel Tower, every moment was filled with wonder and discovery, making it a must-do experience for any Paris visitor.
An amazing and unique experience! This was so fun! Victor was very kind and knowledgeable. He was easy going and made sure we had an amazing experience. We talked and laughed and had a great time! He showed us all the major attractions. The Eiffel Tower location was especially nice for photos. Highly recommend!
What a ride! This was great fun! A bit like Mr Toad's Wild Ride, but a fascinating kaleidoscope of Paris.. we had tourists taking pictures of us! It was just delightful.. and we got a fabulous overview of the city. David, our driver/guide, is an artist who also does this. We talked about a million things. We got to take little breaks, one by the Seine on what I would have thought was a sidewalk! Up through Montmartre, by the vineyard (who knew?)… it was all fabulous fun.
Tour in Citroen 2CV Paris Benjamin, was lovely and new so much I did not know from my last trips to Paris. I would recommended him to anyone coming here.
What a blast in Paris! A must do! Had THE MOST FUN WITH ReneJean! This was my last night in Paris and was a highlight of a two week trip in France. A friend told me about this tour so I checked it out. Spent three hours touring around the sites, including a stop for fresh French bread. Since I had been to Paris many times, ReneJean showed me some of his favorite spots that I would have never seen on my own. Of course we saw the majors but it was such a blast and a great way to finish my trip driving around seeing the city through a locals eye. I laughed for three hours listening to great stories, learning some history and getting some awesome photos! I highly recommend this tour and ask for ReneJean! Btw, Marc the owner was very responsive in the booking process and made it easy. Barbara ( GLennie) Browne
A fun experience! We enjoyed our experience and Antoine was a great guide! We just wish that the tour was longer - especially since our tour got bumped up by an hour the day before to accommodate other tours and we only got to really visit Montmartre (which we had already walked around) because we sat in a rush hour traffic jam in the 10th for the second half of our tour before we had to be dropped off so he could make it to his next tour on time.