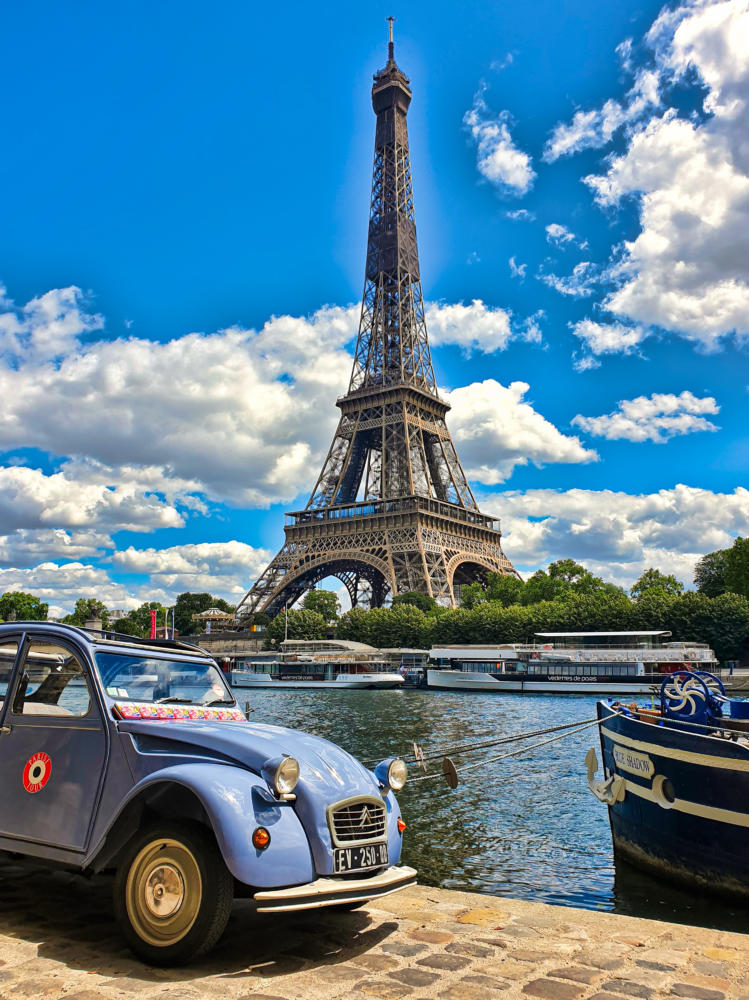 Visit Paris by boat.
Who has never dreamed of leaving the streets and Parisian traffic to visit the capital in a completely different way?
Because Paris without the Seine would not be Paris, we've designed an entire boat tour to discover Paris as you would never have imagined.
Come aboard one of our private boats and float along a guided tour of the city's most beautiful monuments and places.
With family or friends, this cruise is the perfect opportunity to enjoy a fun and unique moment while admiring the different viewpoints accessible only by boat. If you're a little (or a lot) hungry, a picnic can also be provided, to be enjoyed under the sun.
And if you want to add a touch of romance to surprise your loved one, the experience can include champagne and music, with the sunset and a glittering Eiffel Tower in the background.
As for each of our tours, you'll be accompanied by a captain who will take care of your comfort and fulfil his role as a guide. As a true professional and a fine connoisseur of Paris, he'll tell historical tales about the city, various monuments, and even a few little secrets.
Cruise along the banks of the Seine, the Latin Quarter and even the Canal Saint-Martin, from Notre Dame de Paris to the Ile de la Cité, passing under the Pont des Arts before admiring the Pont Alexandre III's golden angels; this boat tour of Paris will introduce you to the most mythical places in the City of Light.
Our Paris tour on the Seine is available by day or night, on luxurious and sought-after boats, adapted to the size of your group and where everything is designed for your comfort. Parisi Tour promises a magical and unforgettable moment, far away from the daily routine and the crowds!
13 kilometres long, the Seine divides Paris in two, separating the left from the right bank. We promise not to start an argument or ask you to take sides. However.
In reality, it's sometimes difficult to imagine all there is to be discovered by water. But what if we told you that the Seine runs along the 16e, 15e, 7e, 8e, 6e, 1er, 4e, 5e, 13e and 12e arrondissements (districts)? That should give you a better idea of all the possibilities our Paris boat tour provided.
And if you have a special request or a crazy idea, please contact us and tell us about it. Our guides will be delighted to create a personalised boat tour for you.
So, are you ready to embark?
Boat trip in Paris: visit from the Seine
We're taking you on a unique excursion in Paris: this walk has everything a successful guided tour: champagne, luxurious and comfortable boat, music, and above all our guides. They comment in real time on the monuments, the history of the capital, its secrets, etc. while you are comfortably seated in the back of your boat.
Paris by boat is like Venice by gondola: it's not to be missed! Night or day, the most beautiful city in the world is shimmering from our boat. The bridges and monuments take on a whole new twist, and it's also the time to get away from the hubbub of the city to taste the serenity of the quays.
Are you looking for a way to avoid traffic jams? Take the boat rather than your car, and give way to dreams. Opt for the visit of Paris by boat with your family, friends, or loved ones for an exceptional moment.
Our skipper guides will show you the capital as you have never seen it before, come aboard our boat, we are waiting for you!